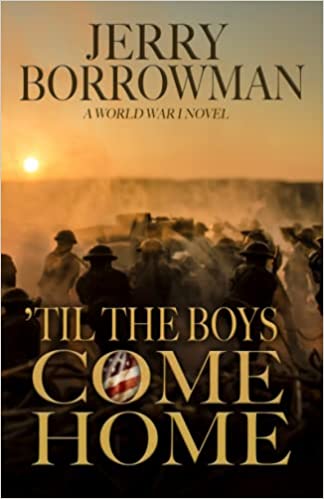 At fifteen, Danny O'Brian dreams of being something different than what his union-leader father has become
–and now that the Richards family has moved to town, maybe it's possible. The Richards family has everything that the O'Brians seem to lack–education, money, social standing–and best of all, they are truly kind to Danny.
Everything changes, however, when war takes the two young men far beyond the peaceful streets of Pocatello, Idaho. Dan must fight in the trenches, reluctantly using the one skill he was taught by his father. Meanwhile, Trevor battles the enemy in the skies. But war will not be kind to these two men with a brotherly bond.
A lyrical and sweeping story of a friendship unfolding in the days of the First World War, 'Til the Boys Come Home shows there can be life after tragedy and that sometimes the one we need most desperately to forgive is ourself.
Reviews:
​
Reyn Gallacher
I had to write that I thought your book was incredible. I started reading it last Sunday and ended up finishing it the next day. I couldn't put it down; especially once the boys were in France. I thought it was very touching, spiritual, emotional, sad, funny, interesting, and real. Your descriptions of Dan singing with the stake choir in the tabernacle and playing the organ in England were so powerful that I could actually feel the music and the spirit. It was a wow.  The tears were flowing. Also, I couldn't hold back the tears while reading about the struggles and hardships the boys faced during the war. Your story illustrated the sad reality of war when young kids with great talents, abilities and potential die a premature death or have their lives changed forever. I am going to have each of my kids read this as it is very enjoyable but also has a dose of reality which all kids should understand. Thanks for sharing this story.