Invisible Heroes of World War II is now available for sale. It tells ten remarkable true stories: Pat Patton, Abandoned at Bataan; Nancy Wake, The White Mouse of the French Resistance; Joseph Hyalmar Anderson, Missing in Action; Dickey Chapelle, American Journalist; Navajo Code Talkers, Heroes of the Pacific War; The Purple Heart Battalion, Rescueing the Texas 1st; Combat Engineers, Builders and Soldiers, African Americans at War, Heroes Despite Prejudice; and Rosie the Riveter, Women in the War Industries. These stories are essential reading for all who love history and who want to know the rest of the story. It makes a great gift. Buy a copy at your favorite bookstore, or order online at Deseret Book  or at Amazon 
Jerry will be speaking at the The Book Bungalow in St. George, Utah on the evening of Friday, October 11th and speaking at the Utah Arts Festival at Dixie State University on October 12th. Stay tuned for more details.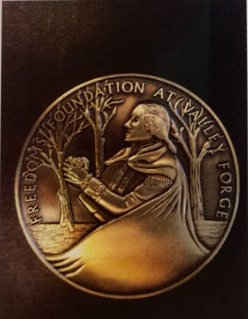 The George Washington Honor Medal  from the Freedoms Foundation awarded to Jerry Borrowman, Author of Compassionate Soldier, published by Shadow Mountain, February 2018.
"Compassionate Soldier brings to light fifteen extroardinary stories of mercy during wartime, from the American Revolution to the Iraq War. An Experienced hand at compelling war history, Jerry Borowman has a keen sense of honor and ethics on the battlefield, which serves to provide crucial context–we come to realize a better, rarer definition of hero." –Matt Sutherland

The Silver Trumpet Award from Covenant Communications represents 250,000 products sold by an author, a rare distinction in the publishing world. Covenant is Jerry's long-term partner, along with his co-authors, in achieving this level of sales success. And his books continue to sell — Three Against Hitler has been in continuous print for more than 23 years.Total sales, including those with other publishers, now top 300,000 and growing. "This award is only possible because of all the great people who purchase and read these books. What a great honor it is to write the remarkable true stories of men like Joe Banks, Bernie Fisher, Porter Rockwell and Rudi  Wobbe that have inspired so many readers. Their life experiences bear continuing witness to the sacrifices required of those who fight for freedom. It's also gratifying that so many people enjoy my historical fiction — it's my way of bringing the past to life. Thank you for your great support through the years, particularly when you recommend one of my books to family and friends."  Jerry Borrowman- December 2014